Produksi Bahan Ajar
Jurnal Tanah dan Lingkungan
Repository IPB
Daftar Buku Ajar
Publikasi Nasional
Publikasi Internasional
Jurnal Terindeks Scopus
Jurnal Terindeks Google Scholar
Jumlah Sitasi
Produksi Bahan Ajar
Jurnal Tanah dan Lingkungan
Journal of Soil Science and Environment/Jurnal Ilmu Tanah dan Lingkungan is a continuation of the Journal of  Soil and Environment/Jurnal Tanah dan Lingkungan, with P-ISSN 1410–7333 and E-ISSN 2549-2853 published twice a year, in April and October by the Department of Soil Science and Land Resources/Departemen Ilmu Tanah dan Sumberdaya Lahan (a new name from the Department of Soil/Departemen Tanah), Faculty of Agriculture, IPB University. The publication of this journal is also carried out in collaboration with Soil Science Association of Indonesia/Himpunan Ilmu Tanah Indonesia (HITI)
Journal of Soil Science and Environment/Jurnal Ilmu Tanah dan Lingkungan is a media that presents articles on the results of research and studies of the latest developments in the fields of soil, water and environmental sciences as the main study material.
JITL has been accredited by Kemenristekdikti (Sinta 3) with Decree No. 85/M/KPT/2020. Valid from Volume 20 Number 1 Year 2018 to Volume 24 Number 2 Year 2022
Repository IPB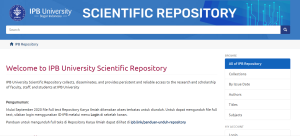 Repository IPB klik disini.
Daftar Buku Ajar
No

Judul

Penerbit

Tahun

1

Carbon Dynamics In Tropical Peatland Planted Forests

IPB Press

2015

2

Gallery Of Peatland In Kampar Peninsula And Beyond: Beauties, Challenges And Opportunities

PT. RAPP

2015

3

Kebijakan Ekonomi Dan Sektor Strategis Indonesia

Setjen DPR RI-Center of Reform on Economics (CORE) Indonesia

2015

4

Evaluasi Sumberdaya Lahan

Tarsito Bandung

 

5

Perencanaan dan Pengembangan Wilayah

Yayasan Obor Indonesia

 

6

Penuntun Praktikum Geomorfologi dan Analisis Lanskap

DITSL-IPB

2013

7

Field  Study Mahasiswa S2 PS Ilmu Perencanaan Wilayah

DITSL-IPB

2014

8

Integrasi Citra Satelit Radar SAR dan SIG untuk Pemantauan dan Estimasi Luas Tanam dan Produksi Padi

Universitas Udayana

2013

9

Diktat : Sifat, Ciri, dan Pengelolaan Tanah Sawah

Dept. Ilmu Tanah & Sumbedaya Lahan, Faperta, IPB

2012

10

Kimia Tanah.  Versi 2012 dan 2013

Dept. Ilmu Tanah & Sumbedaya Lahan, Faperta, IPB

2012

11

Analisis Ekologi Bentanglahan dalam Telaah Potensi Air Permukaan Berbasis Data Spasial

Pusat Penginderaan Jauh ITB

2013

12

Pengelolaan daerah aliran sungai (suatu rencana pengelolaan terpadu DAS Asahan Toba)

USU Press

2012

13

Pengaturan Sumberdaya Alam di Indonesia; Antara yang Tersurat dan Tersirat

Gadjah Mada University Press

2011

14

Strategi Pengelolaan DAS Ciujung
Bab IV Buku Masalah Sumber Daya Air dan Strategi Pengelolaan DAS
(Prastowo dan Hidayat Pawitan)

IPB Press

2011

15

Masalah Sumber Daya Air dan Kerusakan DAS Siak
Bab IV Buku Masalah Sumber Daya Air dan Strategi Pengelolaan DAS
(Prastowo dan Hidayat Pawitan) ISBN 978-979-493-312-1

IPB Press

2011

16

Kajian Potensi Kanal Red Edge untuk Pemantauan Padi

Bab buku Satelit untuk Mitigasi Bencana, Pemantauan Maritim dan Ketahanan Pangan; Pusat Teknologi Satelit LAPAN; ISBN 978-979-493-352-7

2011

17

Optimasi Klasifikasi Numerik Quest pada Data Simulasi LISAT

Bab buku Satelit untuk Mitigasi Bencana, Pemantauan Maritim dan Ketahanan Pangan; Pusat Teknologi Satelit LAPAN; ISBN 978-979-493-352-7; Pusat Teknologi Satelit LAPAN; ISBN 978-979-493-352-7

2011

18

Penerapan Elektroosmosis untuk Pengeringan Endapan Lumpur (Sludge) dari Pengolahan Limbah Cair (Th. 2)

LPPM-IPB

2011

19

Optimasi Klasifikasi Numerik QUEST pada data Simulasi LISAT

PT Penerbit IPB Press

2011

20

Kajian Potensi Kanal Red Edge untuk Pemantauan Padi

PT Penerbit IPB Press

2011
Publikasi Nasional
Jurnal nasional:
No.
Judul Karya Ilmiah
Nama jurnal
Tahun Penerbitan
No Penerbitan
1
Karakteristik Buah Dan Mutu Horfo-Fisiologis Benih Lonkida (Nauclea Griengalis L.) Dari Habitat Alami Di Sulawesi Tenggara
Jurnal Pemuliaan Tanaman Hutan
 
Vol. 8(3):152-170
2
Influence Of Root Density, Fertilezer Application And Water Table Depth On Co2 Emissions From Peat Soil Under Oil Palm Plantation
Indonesian Journal of Agriculture 
 
Vol. 6(1):22-29
3
Pengaruh Kerapatan Akar, Pemupukan Dan Kedalaman Air Tanah Terhadap Emisi Co2 Dari Tanah Gambut Pada Perkebunan Kelapa Sawit
Jurnal tanah dan Iklim
 
Vol. 37(1): 9-18
4
Karakteristik Kapasitas Tanah Memegang Air Pada Berbagai Penggunaan Lahan Di Das Ci Ujung
Jurnal Tanah dan Lingkungan
 
 
5
Analisis Perubahan Penggunaan Lahan Ruang Terbuka Hijau Di Jakarta Timur
Jurnal Lanskap Indonesia 
 
4(2):29-37
6
Analisis Pola Perubahan Penggunaan Lahan Dan Perkembangan Wilayah Di Kota Bekasi, Provinsi Jawa Barat
Jurnal Tanah dan Lingkungan 
 
14(1):21-28
7
Identifikasi Komoditas Basis Tanaman Pangan Dan Arahan Pengembangannya Di Provinsi Lampung
Jurnal Tanah dan Lingkungan 
 
15(1):29-38
8
Penentuan Status Keberlanjutan Infrastruktur Perkotaan (Studi Kasus: Kota Bandarlampung)
Jurnal Sosial Ekonomi Pekerjaan Umum
 
6(1):17-27
9
Pertimbangan Aspek Sosial Budaya Dan Kearifan Lokal Dalam Pengembanagan Kawasan Danau Tempe Provinsi Sulawesi Selatan
Jurnal Ilmiah Perencanaan Wilayah da Kota 
 
16(3):168-180.
10
Tropical Forest Lanscape Fragmentation In Batang Totu Watershed, Nort Sumatera
Jurnal Management Hutan Tropika 20(2):77-85
 
20(2):77-85
11
Pemurnian Gliserol Dari Hasil Samping Produksi Biodisel Minyak Kelapa Sawit
Jurnal Sins Terapan
 
Vol. 4 No 1 Juli 2014
12
Verifikasi Metode Uji Arsen Dalam Contoh Mainan Anak Dengan Spectrofotometer Serapan Atom Generator Uap Hidrida
Jurnal Sins Terapan
 
Vol. 4 No. 2, Desember 2014
13
Perbaikan Kualitas Fisik Tanah Menggunakan Mulsa Jerami Padi Dan Pengaruhnya Terhadap Produksi Kacang Tanah
Jurnal Tanah dan lingkungan
 
Vol. 14 No. 1 Hal. 7-13
14
Dampak Partisipasi Dalam Kegiatan Kemasyarakatan Terhadap Pendapatan Rumah Tangga Perdesaan Di Indonesia
Jurnal ilmu-ilmu sosial dan humaniora
 
Vol.16 No 3 November 2014 / 222-227
15
Potensi Kultur Campuran Bakteri Endofit Sebagai Pemicu Pertumbuhan Bibit Tanaman Karet
Jurnal Penelitian Karet
 
32(2):129-138
16
Pengaruh Kedalaman Muka Air Dan Amelioran Terhadap Produktivitas Kedelai Di Lahan Sulfat Masam Effect Of Water Depth And Ameliorant To Soybeanproductivity On Acid Sulphate Soil
Pangan Media Indonesia
 
Vol. 23 No. 2
17
Penilaian Bahaya Lahar Gunung Api Salak. Suatu Pendekatan Morfometri
Jurnal Lingkungan dan bencana Geologi
 
Vol. 5 No 2 Hal 83-110
18
Penilaian Bahaya Lahar Gunung Api Salak. Suatu Pendekatan Morfometri
Jurnal Lingkungan dan bencana Geologi
 
Vol. 5 No 2 Hal 83-110
19
Pemetaan Lahan Sawah Dan Potensinya Untuk Perlindungan Lahan Pertanian Pangan Berkelanjutan Di Kabupaten Pasaman Barat, Sumbar
DITSL
 
15(1):12-19
20
Penentuan Indeks Bahaya Kekeringan Agro-Hidrologi: Studi Kasus Wilayah Sungai Kariango Sulsel
DITSL
 
15(1):20-28
21
Analisis Kesesuaian Dan Ketersediaan Lahan Serta Arahan Pengembangan Komoditas Pertanian Di Kabupaten Kepulauan Meranti Provinsi Riau
Jurnal Tanah dan Lingkungan/Sitorus, S.R.P., Jalaluddin, M., Panuju, D.R.
 
14(2): 45-55
22
Analisis Ketersediaan Ruang Terbuka Hijau Dan Tingkat Perkembangan Wilayah Di Kota Cimahi, Provinsi Jawa Barat
Jurnal Tanah dan Lingkungan/ Sitorus, S.R.P., Ashri, M., Panuju, D.R.
 
15(2): 66-75
23
Analisis Komoditas Unggulan Dan Evaluasi Kesesuaian Lahan Di Kabupaten Bolaang Mongondow Selatan, Sulawesi Utara
Buletin Inovasi Pertanian Spesifik Lokasi/ Salamba,HN, Sitorus, S.R.P, Darmawan, Iswati,A.
 
 1(1): 57-59. 
24
Analisis Status Keberlanjutan Kegiatan Pertambangan Batubara Di Kota Samarinda Provinsi Kalimantan Timur
Jurnal Teknologi Mineral dan Batubara /Prasodjo, E., Sitorus, S.R.P, Pertiwi, S., Putri, E.I.K.
 
11(1):49-60
25
Dampak Modal Sosial Terhadap Kesejahteraan Rumah Tangga Perdesaan Di Indonesia
Jurnal Mimbar/ A. Nsoetion, E.Rustiadi, B. Juanda, S. Hadi
 
Vol.30/ No 2 Desember 2014. Hal 137-148
26
Dampak Pertambangan Terhadap Perubahan Penggunaan Lahan Dan Kesesuaian Peruntukan Ruang: Studi Kasus Kabupaten Luwu Timur, Provinsi Sulawesi Selatan
Jurnal Perencanaan Wilayah dan Kota/ W. Hidayat, E. Rustiadi, H. Kartodihardjo
 
Vol 26/ No. 2, Agustus 2015/ Hal. 130-146
27
Dampak Sektor Pertambangan Terhadap Perekonomian Wilayah Di Kabupaten Luwu Timur
Jurnal Economia/ W. Hidayat, E. Rustiadi, H. Kartodihardjo
 
Vol.10/ No. 1 2014, Hal 65-80
28
Pemanfaatan Citra Quick Bird Untuk Verifikasi Peta Berbasis Kepemilikan Lahan (Studi Kasus: Delta Cipunegara, Kanbupaten Subang, Jawa Barat)
Tanah dan Lingkungan 
 
Vol. 14 No. 1
29
Pembinaan Produksi Kompos Limbah Perttanian Dan Pemanfaatannya Di Kecamatan Tamansari Kabupaten Bogor
Agrokreatif
 
Perdana
30
Pertumbuhan Bibit Salak Pondoh [Salacca Zalacca (Gaerner) Voss] Yang Diinokulasi Dengan Isolat Bakteri Potensial Di Tanah Regosol Darmaga
Jurnal Hortikultura Indonesia
 
Vol 6 (April 2015) hal 30-35
31
Kajian Hidrofobisitas Tanah Gambut Di Perkebunan Kelapa Sawit Menggunakan Ftir Spektroskopi
Jurnal Penelitian Kelapa Sawit 
 
Vol. 22 (2) 2014: 76-86
32
Penetapan Gugus Fungsional Tanah Gambut Pada Perkebunan Kelapa Sawit Menggunakan Ftir Spektoskopi
Jurnal Penelitian Kelapa Sawit 
 
Vol. 22 (1) 2014: 11-19
33
Rasio Dan Kejenuhan Hara K, Ca, Mg Di Dalam Tanah Untuk Tanaman Kelapa Sawit (Elaeis Guineensis Jacq)
Jurnal Tanah dan Lingkungan
 
Vol. 15 No. 2, Oktober 2013: 60-65
34
Teknik Pengideraan Jauh Untuk Pemilihan Lahan Pertanian Padi Sawah Berkelanjutan
Jurnal Tanah dan Lingkungan
 
Vol. 14 No. 2, Oktober 2012: 56-65
35
Emisi Co2 Dan Ch4 Dari Pertanaman Padi Pada Beberapa Perlakuan Pestisida Dalam Kaitannya Dengan Asam-Asam Fenolat Di Lahan Gambut (Ma Susanti, S Sabiham, S Anwar, Dadang, I Las)
Jurnal Tanah dan Iklim
 
38(2):95-100 (2014)
36
Emisi Co2 Dan Ch4 Dan Konsentrasi Asam-Asam Fenolat Di Bawah Pengaruh Beberapa Perlakuan Pestisida Di Lahan Gambut Pasang Surut 
Jurnal Tanah dan Iklim
 
Vol. 38 (2) 2015: 95-100
37
Estimation Of The Potential Carbon Emission From Acrotelmic And Catotelmic Peats
J Trop Soils
 
Vol. 19 No. 2 2014/ 81-89
38
Kajian Hidrofobisitas Tanah Gambut Di Perkebunan Kelapa Sawit Menggunakan Ftir Spektroskopi. Jurnal Penelitian Kelapa Sawit
Jurnal Penelitian Kelapa Sawit 
 
Vol. 22 (2) 2014: 76-86
39
Penetapan Gugus Fungsional Tanah Gambut Pada Perkebunan Kelapa Sawit Menggunakan Ftir Spektoskopi
Jurnal Penelitian Kelapa Sawit 
 
Vol. 22 (1) 2014: 11-19
40
Kajian Perencanaan Ruang Berbasis Debit Air
Tata loka (sudah terbitO)
 
 
41
Kajian Risiko Kekeringan Kabupaten Indramayu
DITSL sedang diproses
 
 
42
Pemetaan Bahan Kerusakan Lahan Akibat Pertambangan Emas Ilegal Di Das Raya, Kalbar
DITSL sedang diproses
 
 
43
Metode Alternatif Memperkirakan Konsentrasi Karbon Organik Terlarut Dalam Air Saluran Drainase Dan Tanah Gambut
JURNAL TANAH DAN IKLIM VOL. 39 NO. 1
 
JULI 2015, P: 1-8
44
 Impact Of Land Use Change On Irrigation Water Supply In Northern Java Coast (Pantura)
J. Tanah Tropika Lampung
2013
ISSN 0852-257X.
45
Analisis Keberlanjutan Pengembangan Prasarana Transportasi Perkotaan di Metropolitan Mamminasata Provinsi Sulawesi Selatan (Analysis of Sustainable Urban Development in Mamminasata Metropolitan of South Sulawesi Transportation Infrastructure). 
Jurnal Jalan-Jembatan
2013
Vol. 30 No. 1
46
Verifikasi Metode Penentuan Residu Pestisida Beta Siflutrin dalam Kentang (Solanum tubersom L.) secara Kromatografi Gas
Jurnal Sains Terapan 3(1):50- 55
2013
 
47
Isolation, Characterization, dan Molecular Identification of Phosphate Solubilizing Bacteria from Several Tropical Soils
Jurnal Of Tropical Soil 18(1): 67 -74
2013
 
48
Efesiensi Serapan Hara dan Hasil Padi pada Budidaya Padi SRI di Persawahan Pasang Surut Kalimantan Selatan dengan Kompos di Perkaya untuk mengurangi Pupuk Anorganik 
Jurnal Agronomi Vol. XI. No.2
2012
 
49
Simulasi Manajemen Lahan di DAS Ciliwung Hulu Menggunakan Model SWAT 
Informatika Pertanian
21(2):71-79
ISSN 0852-1743
2012
 
50
Pemanfaatan Citra Quickbird untuk Verifikasi Peta Berbasis Kepemilikan Lahan (Studi Kasus : Delta Cipunegara, Kabupaten Subang, Jawa Barat)
Jurnal Tanah dan Lingkungan
Vol. 14 No. 1, April 2012: 37-43; 
2012
1
51
Studi Geomorfologi Pulau Ternate dan Penilaian Bahaya Longsor
Jurnal Tanah dan Lingkungan
Vol. 14 No. 1, April 2012: 8-13; ISSN 1410-7333
2012
1
52
Pemanfaatan Citra QuickBird untuk Verifikasi Peta Berbasis Kepemilikan Lahan, Studi Kasus Delta Cipunagara, Kabupaten Subang Jawa Barat
Jurnal Tanah dan Lingkungan 14 (1) April 2012; ISSN 1410-7333
2012
 
53
Integrasi Citra Satelit Radar SAR dan SIG untuk Pemantauan dan Estimasi Luas Tanam dan Produksi Padi
Bumi Lestari (sedang proses); Universitas Udayana
2013
 
54
Inventarisasi dan Analisis Identifikasi Penggunaan
Lahan Berdasarkan Tumpang Tindih Lahan Kontrak Karya pada PT. Gorontalo Mineral
JATT Vol. 1 No. 1, April 2012: 46-60 ; Universitas Gorontalo; ISSN 2252-3774 
2012
 
55
Penerapan Elektroosmosis untuk Pengeringan Sludge dari Pengolahan Limbah Cair
Jurnal Reaktor Volume 14 Nomor 3 April 2013
2013
 
56
Kesesuaian Lahan Fisik dan Ekonomi untuk Padi Sawah: Studi Kasus Wilayah Perencanaan Kota Terpadu Mandiri Rawapitu, Provinsi Lampung
Globe, Vol. 15 No. 1, Juni 2013
2013
 
57
Perencanaan Spasial Pemanfaatan Lahan Untuk Komoditas Perkebunan Rakyat Di Kabupaten Pidie Jaya, Provinsi Nangroe Aceh Darussalam.
Geomatika, Ags 2013
2013
 
58
Perencanaan spasial peningkatan produksi kedelai berbasis kesesuaian lahan di Kab. Lombok Timur, Prov. Nusa Tenggara Barat: Studi Kasus Pemanfaatan Data Spasial dari Kegiatan Badan Informasi Geospasial "Pemetaan Integrasi Kemampuan Lahan dan Kesesuaian Lahan Multisektor".  
Geomatika, Des 2013
2013
 
59
Analysis Of Physical And Economical Land Suitability For Paddy Field Using Geographic Information System (Gis) And Automated Land Evaluation System (Ales): Case Study Of Transmigration Settlement Maidi Sp-2, North Maluku Province
Journal of MIT, Maret 2013
2013
 
60
Distribusi Spasial Besaran Erosi untuk Perencanaan Penggunaan Lahan Lestari: Studi Kasus UPT Rantau Pandan SP-1, Provinsi Jambi
Globe, Vol. 14 No. 1 Juni 2012
2012
 
61
Perubahan Cadangan Karbon Organik Tanah dalam Konteks Perubahan Penggunaan Lahan Selama 2 Dekade: Studi Kasus Kab. Bogor, Jawa Barat
Globe, Vol. 14 No. 2 Desember 2012
2012
 
62
Evaluasi Lahan Permukiman Transmigrasi Pola Lahan Kering Menggunakan Automated Land Evaluation System (Ales):
Geomatika, Desember 2012
2012
 
63
Studi Kasus Rantau Pandan SP-2, Provinsi Jambi
Jurnal Pengelolaan SDAL. Vol. 2, No. 1, Juni 2012. pp. 46-55
2012
 
64
Analisis Kesesuaian Lahan Tingkat Satuan Pemukiman Menggunakan Automated Land Evaluation System (Ales): Studi Kasus Rantau Pandan SP-1, Provinsi Jambi
Jurnal PSDAL. Vol. 2, No. 1. pp. 29-36
2012
 
65
Dinamika Perubahan Penggunaan Lahan dan Strategi Ruang Terbuka Hiiau (RTH) Terbuka Berdasarkan Alokasi Anggaran Lingkungan Daerah (Studi Kasus Kota Bekasi)
Jurnal JMST Vol 12 No. 1 Maret 2011, Universitas Terbuka
2012
 
66
Fosil Polen Mangrove Berumur Pliosen dari Formasi Tapak daerah Kedung Randu
J. Bioma 14(1): 17-24
2012
 
67
Efek Pembukaan Lahan Terhadap Karakteristik Bio Fisik Gambut Pada Perkebunan Kelapa Sawit di Kabupaten Bengkalis
J. Natur Ind 14(2): 143-149
2012
 
68
Pengelolaan Lahan Gambut Indonesia Berbasis Keunikan Ekosistem
Departemen Ilmu Tanah dan Sumberdaya Lahan, Faperta IPB
2012
 
69
Tarigan, S.D., Tukayo, R., 2012. Impact Of Land Use Change On Irrigation Water Supply In Northern Java Coast (Pantura)
Submit ke Jurnal Tanah dan Tropika, Universitas Lampung
2012
 
70
Tarigan, S.D., 2012. Methods for Delineating Degraded Land
J. Tanah Tropika Vol 17 No.3, ISSN 0852-257X. Lampung
2012
 
71
Patiung, O., Tarigan, S.D., Sinukaban, N., Pengaruh umur reklamasi lahan bekas tambang batu bara terhadap fungsi hidrologis. 
J. Hidrolitan 2(2) :60-73
2012
 
72
Characterization of Surface Runoff, Soil Erosion and Nutrient Loss on Forest-Agriculture Landscape
Jurnal Tanah Tropika, Vol 17 No.3
2012
 
Prosiding:
No.
Judul Karya Ilmiah
Nama Prosiding seminar
Tahun penerbitan
No. ISBN
1
The Effect of Slow Release Fertilizer to Growth and Production of Oil Palm in Peat Soil
 
2012
 
2
Identification and Mapping of Hydrological Peat Unit using Radar and Ancillary Data,
A Case Study in Mimika and Mappi, Papua
Proceeding of Asian Remote Sensing Conf, ACRS and Mapin (beeing process)
2014
 
3
Distribution of actual oil palm and its potential development at peat land in Sumatra
Prosiding Seminar Nasional Pengelolaan Lahan Gambut Berkelanjutan,  Bogor, 4 Mei 2012, BBSDLP
2012
ISBN 978-602-8977-42-5; hal  223 – 232
4
Spatial Clustering of Hotspots using DBSCAN and ST-DBSCAN
Int.  Seminar on Science (sedang proses)
2013
 
5
Spatial Pattern of Palm Oil Development in North Sumatra and South Kalimantan. A Case Study of Actual Utilization and Land Holding Status
Prosiding 1st International Plantation Conference, dec 2012
2012
Faculty of Agriculture IPB and UiTM; ISBN 978-979-97511-6-4
6
Application of Digital Soil Mapping for mapping of soil properties in supporting of fertilization recommendation
Prosiding Semi-nar Nasional Pemupukan dan Pemulihan Lahan Terdegradasi,  Bogor, 29-30 Juni 2012 ; BBSLDP
2012
ISBN 978-602-8977-43-2; hal 72-82
7
Membangun Penyelenggaraan Sistem administrasi Pertanahan di Kabupaten Nunukan : pengalaman kajian penyelenggaraan 9 kewenangan pertanahan di studi LMPDP 2006-2010 dan lainnya 
Prosiding Pembaruan Agraria untuk Kesejahteraan Masyarakat Perbatasan 
2012
Kerjasama Sekda Kab Nunukan dgn PSP3 LPPM: ISBN 978-602-96030-4-0; hal 25-38
8
Distribution of actual oil palm and its potential development at peat land in Sumatra
Prosiding Seminar Nasional Pengelolaan Lahan Gambut Berkelanjutan,  Bogor, 4 Mei 2012
2012
BBSDLP : ISBN 978-602-8977-42-5; hal  223 – 232
9
Carbon Budget in Acacia crassicarpa Pulpwood Plantation in Peatlands
Workshop Enhancing Sustainability of Forestry Practices on Peatlands, IICC
2012
 
10
Emission of CO2 and CH4 from Plantation Forest of Acacia crassicarpa on peatlands in Indonesia 
The 14th International Peat Congress, IPS, Stockholm Sweden, 3-8 June 2012
2012
 
11
Program and Activities of Indonesian Society of Soil Science (ISSS)
11th International Conference The East and Southeast Asia Federation of Soil Science Societies
2013
 
12
Peat Thickness Acquisition with Geo-Radar
11th International Conference The East and Southeast Asia Federation of Soil Science Societies
2013
 
13
Key Processes and Factors to Mitigate Landa Degradation
11th International Conference The East and Southeast Asia Federation of Soil Science Societies
2013
 
14
Emission for CO2 and CH4 from Plantation Forest of Acacia crassicarpa on Peatlands in Indonesia
The 14th International Peat Congress "Peatlands in Balance", Stockholm, Sweden 3-8 Juni 2012
2012
 
15
Water-phosphorus sorption on nano-fraction extracted from volcanic tuff of Mt. Salak, West Java, Indonesia
Proceeding of Regional Workshop on Water, Land, and Southeast Asia Food Sovereignty
2012
 
16
Chemical Characteristics of Fly Ash after 5 Years Deposition in Landfill and its Potential Use for Soil Amelioration
Proceeding 11th Int. Conf. ESAFS, 21-24 Oct 2013, BOGOR
2013
 
17
Pengaruh Lingkungan (Sifat Fisik dan Kimia Tanah serta Iklim) terhadap Cemaran Getah Kuning Buah Manggis
Effects of the Environments (Physical and Chemical Properties of Soil, and the Climate) on Gamboge of Mangosteen Fruits
Seminar Hasil-Hasil Penelitian Institut Pertanian Bogor 2011
2012
ISBN 978-602-8853-14-9
18
Paper: Potensi, Kendala, Dan Strategi Pemanfaatan Lahan Kering Dan Kering Masam Untuk Pertanian (Padi, Jagung, Kedele), Peternakan, Dan Perkebunan Dengan Menggunakan Teknologi Tepat Guna Dan Spesifik Lokasi (Kukuh Murtilaksono Dan Syaiful Anwar) 
Seminar Nasional Lahan Suboptimal 2014: Pengembangan Teknologi Pertanian yang Inklusif untuk Memajukan Petani Lahan Suboptimal  
2014
Universitas Sriwijaya, 26-27 September 2014
19
Poster: Dampak Penggunaan Pestisida Dan Pengelolaan Air Terhadap Kualitas Lingkungandan Emisi Karbon Di Lahan Gambut Yang Disawahkan (Lanjutan) (Syaiful Anwar, Supiandi Sabiham, Dadang, Fuzi Suciati, Maipa) 
Seminar Hasil Penelitian dan Pengabdian Kepada Masyarakat IPBPenguatan dan Diseminasi Hasil PPM untuk Pengarusutamaan Pertanian
2014
LPPM-IPB, Padjadjaran Suites Resort & Convention, BNR Bogor, 2-3 Desember 2014
20
Distribusi Unsur Hara Dan Perakaran Pada Pola Pemupukan Kelapa Sawit Di Dalam Piringan Di Kabupaten Muaro Jambi
Prosiding Seminar Teknologi Pemupukan dan Pemulihan Lahan Terdegradasi
2014
Badan Penelitian dan Pengembangan Pertanian
21
Analisis Objek Wisata Dan Arahan Pengembangan Kawasan Wisata Pangandaran,  Kabupaten Pangandaran, Provinsi Jawa Barat
ASPI 2014
2014
Hal. 378-395
22
Teknik Penentuan Komoditas Unggulan Pertanian Berdasarkan Potensi Wilayah Dalam Rangka Pengembangan Wilayah
ASPI 2014
2014
Hal. 396-406.
23
Seasonal Changes Of Soil Microarthropod Populations In Microhabitats Of Oil Palm Plantation In Southern Sumatra
Workshop on Management of Oil palm Plantation
2014
Oktober 2014
24
Konversi Lahan Sawah, Kecukupan Beras Domestik Dan Konsekuensinya Terhadap Pola Ruang Kota Sukabumi, Jawa Barat
Prosiding Seminar Nasional Asosiasi Sekolah Perancanaan Indonesia (ASPI) 2014: Mengembangkan Kota dan Wilayah yang Tangguh dan Berkelanjutan
2014
217-226
25
Physiological And Morphological Changes In Rice Plant Under System Of Rice Intensification (Sri) Management And Its Effest On Increasing Yield
4th International Rice Congress 2014
2014
27oct-1nov 2014
26
Rice Ratooning With High Yield Is Possible?
4th International Rice Congress 2014
2014
27oct-1nov 2014
27
Root Morphology And Anatomy Of Rice Plants Cultivated Under System Of Rice Intensification (Sri)
4th International Rice Congress 2014
2014
27oct-1nov 2014
28
Assessment Of Erosion Potentials On Various Cropping Patterns Using Usle: Case Of Subang Region, West Java
Asean Science and Tecnology Week, Bogor
2014
 
29
Characteristics Of L-Band Backscatter Coefficients Of Rubber Plantation And Their Seasonal Dynamics
ICMNS 2014
2014
 
30
Constraints Of Vswi In The Estimation Of Drought Extent Using Landsat Data: A Case Of Tuban, Indonesia
The 1st International Symposium on LAPAN-IPB Satellite for Food Security and Environmental Monitoring
2014
 
31
Evaluating Compact Sar Plorimetry For Tropical Forest Monitoring
Society of Photo-Instrumentation Engineers (SPIE)
2014
Proc. Of SPIE Vol. 9444 94440B-1. doi: 10.1117/12.2075177
32
Interferometric Processing Of C-Band Sar Data For The Improvement Of Stand Age Estimation In Rubber Plantation
Society of Photo-Instrumentation Engineers (SPIE)
2014
Proc. Of SPIE Vol. 9444 94440C-1. doi:10.1117/12.2074773
33
Potential Use Of Hibrid Synthetic Aperture Radar Polarimetry In Earth Surface Monitoring
ISMNS 2014
2014
 
34
Aplikasi Penginderaan Jauh Untuk Penentuan Karbon Di Tn Sembilang
2015 (sedang dicetak)
2015
 
35
Karakteristik Infrastruktur Pertanian Dan Pola Ruang Terhadap Neraca Pangan 
2015 (sedang dicetak)
2015
 
36
Pemetaan Bahaya Kekeringan Di Indramayu
2015 (sedang dicetak)
2015
 
37
Aplikasi Penginderaan Jauh Dalam Pendugaan Cadangan Karbon Di Taman Nasional Sembilang
PERTEMUAN ILMIAH KONGRES MAPIN 
2015
 
Koran/ Majalah:
| | | | | |
| --- | --- | --- | --- | --- |
| No. | Judul Tulisan | Nama koran atau majalah | Tahun | Tanggal terbit koran atau nomor majalah |
| 1 | Kebijakan Subsidi Benih | Kompas, 21 January 2013, hal 7 |   |   |
| 2 | Petani, Undang-Undang dan Transgenik | Kompas 18 Oktober 2012, hal. 6 |   |   |
| 3 | Bahaya Krisis Pangan | Kompas 13 Agustus 2012, hal 6. |   |   |
| 4 | Benih Kedaulatan Petani | Kompas 4 Juni 2012, hal. 6 |   |   |
| 5 | Membangun Kedaulatan Pangan | Kompas, 11 Februari 2012, hal. 6 |   |   |
| 6 | Pp Gambut Yang Tidak Ramah Iptek | Media Indonesia | 2014 | 16 Oktober 2014 |
| 7 | Kondisi Biofisik Dan Sosial Ekonomi Sebagai Pertimbangan Aplikasi Teknologi Peresapan Air Untuk Pengendalian Banjir Di Das Ciliwung Hulu Studi Kasus Sub Das Mikro Cikardipa |   |   |   |
| 8 | Harapan Petani Untuk Presiden | Kompas | 2014 | 29 September 2014/ hal6 |
| 9 | Isu Besar Pangan | Kompas | 2015 | 11 Agustus 2014 hal 6 |
| 10 | Stabilisasi Harga Pangan | Kompas | 2015 | Opini, Kompas, 23 Juni 2015, Hal. 6 |
| 11 | Swasembada Tanpa Petani | Kompas | 2015 | Opini, Kompas, 12 Mei 2015, Hal 6 |
| 12 | Waspada Pangan 2015 | Kompas | 2015 | Opini, Kompas, 10 Maret 2015. Hal. 6 |
Publikasi Internasional
No.
Judul Karya Ilmiah
Nama jurnal
Tahun Terbit
No Penerbitan
1
Agriculture Impact On Climate Change:A Comparison Of Ghgs Emissions From Organic And Conventional Agricultural Practices
Emirates Journal of Food and Agricultural
 
in press
2
Estimating Changes In Above Ground Biomass In The Peatlands Of Riau And West Kalimantan, Indonesia
J. ISSAAS
 
in press
3
Hydrophobicity And Critical Water Content Of Tropical Peat Soil From An Oil Palm Plantation In Indonesia
J. ISSAAS
 
in press
4
Impacts Of Soil Palm Plantations On Climate Change: A Review Of Peat Swamp Forests?? Conversion In Indonesia. International Journal Of Plant And Soil Science
International Journal of Plant and Soil Science
 
1(4): 1-17
5
"The Applications Of Monte Carlo Algorithm And Energy Cone Model To Produce The Probability Of Block-And-Ash Flows Of The 2010 Eruption Of Merapi Volcano In Central Java, Indonesia (F Yulianto, B Tjahjono, S Anwar) " 
"Arab J Geosci, 25pp

DOI 10.1007/s12517-014-1525-5 (Springer)"  
 
"Arab J Geosci, 25pp

DOI 10.1007/s12517-014-1525-5 (Springer)"  
6
Determinants Of Sustainable Vegetable Farming Among Smallholder Farmenrs In Bogor Regency (W Ullah, S Mulatsih, Sahara, S Anwar) 
IJCRR (Int J Cur Res Rev)  
 
6(13):7-14
7
Influence Of Root Density, Fertilezer Application And Water Table Depth On Co2 Emissions From Peat Soil Under Oil Palm Plantation
Indonesian Journal of Agriculture 
 
Vol. 6(1):22-29
8
Pengaruh Kerapatan Akar, Pemupukan Dan Kedalaman Air Tanah Terhadap Emisi Co2 Dari Tanah Gambut Pada Perkebunan Kelapa Sawit
Jurnal tanah dan Iklim
 
Vol. 37(1): 9-18
9
Estimating The Relative Contribution To The Total Co2 Flux From Peat Soil At An Oil Palm Plantation In Sumatra, Indonesia
Tropical Agriculture and Development
 
Vol. 58(3): 87-93
10
Impacts Of Soil Palm Plantations On Climate Change: A Review Of Peat Swamp Forests?? Conversion In Indonesia. International Journal Of Plant And Soil Science
International Journal of Plant and Soil Science
 
Vol. 4(1): 1-17
11
Karakteristik Kapasitas Tanah Memegang Air Pada Berbagai Penggunaan Lahan Di Das Ci Ujung
Jurnal Tanah dan Lingkungan
 
 
12
Achievement Of Indonesian Sustainable Palm Oil Standards Of Palm Oil Plantation Management In East Borneo Indonesia
Journal of Biology, Agriculture and Healthcare
 
4(9):1-5.
13
Analisis Perubahan Penggunaan Lahan Ruang Terbuka Hijau Di Jakarta Timur
Jurnal Lanskap Indonesia 
 
4(2):29-37
14
Analisis Pola Perubahan Penggunaan Lahan Dan Perkembangan Wilayah Di Kota Bekasi, Provinsi Jawa Barat
Jurnal Tanah dan Lingkungan 
 
14(1):21-28
15
Determination Sustainability Status In Urban Infrastructure And Policy Recomendation For Development. Case Study: Bandarlampung City, Indonesia
Civil and Environmental Research 
 
6(12): 49-60
16
Identifikasi Komoditas Basis Tanaman Pangan Dan Arahan Pengembangannya Di Provinsi Lampung
Jurnal Tanah dan Lingkungan 
 
15(1):29-38
17
Penentuan Status Keberlanjutan Infrastruktur Perkotaan (Studi Kasus: Kota Bandarlampung)
Jurnal Sosial Ekonomi Pekerjaan Umum
 
6(1):17-27
18
Pertimbangan Aspek Sosial Budaya Dan Kearifan Lokal Dalam Pengembanagan Kawasan Danau Tempe Provinsi Sulawesi Selatan
Jurnal Ilmiah Perencanaan Wilayah da Kota 
 
16(3):168-180.
19
Technical Culture And Productivity Of Oil Palm In Several Plantations In East Kalimantan
International Journal of Latest Research in Science and Technology
 
3(2):19-24.
20
Establishment Of Forest And Land Fires Vulnerability Level In Kapuas District Central Kalimantan Province Indonesia
Agriculture, Forestry and Fisheries 2014
 
Vol. 3(3):163-170
21
Impact Of Tropical Lowland Rainforest On Soil Microbial Communities As Indicated By Phospholipid Fatty Acid And Identification Of Driving Factors
Journal Soil Biology and Biochemistery
 
 
22
Chicken Manure Composts As Nitrogen Source And Their Effect On The Growth And Quality Of Komatsuna (Brassica Rapa L)
J. ISSAS
 
Vol. 20, No. 1: 52-63 (2014)
23
Land Suitability And Dynamic System Modelling To Define Priority Areas Of Soybean Plantation In Paddy Fields In Karawang, West Java
Journal of Agricultural Science AGRIVITA
 
Vol. 36, No. 3/ 235-248
24
Tropical Forest Lanscape Fragmentation In Batang Totu Watershed, Nort Sumatera
Jurnal Management Hutan Tropika 20(2):77-85
 
20(2):77-85
25
Pemurnian Gliserol Dari Hasil Samping Produksi Biodisel Minyak Kelapa Sawit
Jurnal Sins Terapan
 
Vol. 4 No 1 Juli 2014
26
Verifikasi Metode Uji Arsen Dalam Contoh Mainan Anak Dengan Spectrofotometer Serapan Atom Generator Uap Hidrida
Jurnal Sins Terapan
 
Vol. 4 No. 2, Desember 2014
27
Perbaikan Kualitas Fisik Tanah Menggunakan Mulsa Jerami Padi Dan Pengaruhnya Terhadap Produksi Kacang Tanah
Jurnal Tanah dan lingkungan
 
Vol. 14 No. 1 Hal. 7-13
28
Dampak Partisipasi Dalam Kegiatan Kemasyarakatan Terhadap Pendapatan Rumah Tangga Perdesaan Di Indonesia
Jurnal ilmu-ilmu sosial dan humaniora
 
Vol.16 No 3 November 2014 / 222-227
29
Determining Optimal Location Of New Growth Centers Based On Lgp–Irio Model To Reduce Regional Disparity In Indonesia
The Annals of Regional Science

An International Journal of Urban,

Regional and Environmental Research

and Policy
 
Volume 54 Number 1 / 115
30
The Development Of Institutional Models For Community Food Security In West Nusa Tenggara (Ntb) Province-Indonesia
IOSR Journal of humanitis and social science
 
Vol.19 Issue:7 (Version 1) / 09-15
31
Potensi Kultur Campuran Bakteri Endofit Sebagai Pemicu Pertumbuhan Bibit Tanaman Karet
Jurnal Penelitian Karet
 
32(2):129-138
32
Screening And Characterization Of Rhizobacteria For Enhancing Growth And Chloropyll Content Of Sweet Sorghum (Sorghum Bicolor L.)
J. ISSAAS
 
20(2)/86-97
33
Interactive Effects Of Aluminum And Iron On Several Soybean Genotypes Grown In Nutrient Solution
Asian Journal of Plant Sciences
 
13(1):18-24
34
Pengaruh Kedalaman Muka Air Dan Amelioran Terhadap Produktivitas Kedelai Di Lahan Sulfat Masam Effect Of Water Depth And Ameliorant To Soybeanproductivity On Acid Sulphate Soil
Pangan Media Indonesia
 
Vol. 23 No. 2
35
Effect Of Silicate Application On The Release Pattern Of Native Inorganic Phosphorus Form Andisol Soil In Lembang Using Successive Resin Extraction
Journal of International Society for Southeast Asian Agricultural Sciences (ISSAAS)
 
No. 2:1-7
36
Phosphorus Fractions Of Paddy Soil In Java Indonesia
Journal of International Society for Southeast Asian Agricultural Sciences (ISSAAS)
 
Submit pada 13 Januari 2015
37
Penilaian Bahaya Lahar Gunung Api Salak. Suatu Pendekatan Morfometri
Jurnal Lingkungan dan bencana Geologi
 
Vol. 5 No 2 Hal 83-110
38
Penilaian Bahaya Lahar Gunung Api Salak. Suatu Pendekatan Morfometri
Jurnal Lingkungan dan bencana Geologi
 
Vol. 5 No 2 Hal 83-110
39
Pemetaan Lahan Sawah Dan Potensinya Untuk Perlindungan Lahan Pertanian Pangan Berkelanjutan Di Kabupaten Pasaman Barat, Sumbar
DITSL
 
15(1):12-19
40
Penentuan Indeks Bahaya Kekeringan Agro-Hidrologi: Studi Kasus Wilayah Sungai Kariango Sulsel
DITSL
 
15(1):20-28
41
Analisis Kesesuaian Dan Ketersediaan Lahan Serta Arahan Pengembangan Komoditas Pertanian Di Kabupaten Kepulauan Meranti Provinsi Riau
Jurnal Tanah dan Lingkungan/Sitorus, S.R.P., Jalaluddin, M., Panuju, D.R.
 
14(2): 45-55
42
Analisis Ketersediaan Ruang Terbuka Hijau Dan Tingkat Perkembangan Wilayah Di Kota Cimahi, Provinsi Jawa Barat
Jurnal Tanah dan Lingkungan/ Sitorus, S.R.P., Ashri, M., Panuju, D.R.
 
15(2): 66-75
43
Analisis Komoditas Unggulan Dan Evaluasi Kesesuaian Lahan Di Kabupaten Bolaang Mongondow Selatan, Sulawesi Utara
Buletin Inovasi Pertanian Spesifik Lokasi/ Salamba,HN, Sitorus, S.R.P, Darmawan, Iswati,A.
 
 1(1): 57-59. 
44
Analisis Status Keberlanjutan Kegiatan Pertambangan Batubara Di Kota Samarinda Provinsi Kalimantan Timur
Jurnal Teknologi Mineral dan Batubara /Prasodjo, E., Sitorus, S.R.P, Pertiwi, S., Putri, E.I.K.
 
11(1):49-60
45
Determination Sustainability Status In Urban Infrastructure And Policy Recommendation For Development
Civil and Environmental Research / Persada,C., Sitorus S.R.P., Marimin, Djakapermana, R.D.
 
6(12):49-60.
46
Dampak Modal Sosial Terhadap Kesejahteraan Rumah Tangga Perdesaan Di Indonesia
Jurnal Mimbar/ A. Nsoetion, E.Rustiadi, B. Juanda, S. Hadi
 
Vol.30/ No 2 Desember 2014. Hal 137-148
47
Dampak Pertambangan Terhadap Perubahan Penggunaan Lahan Dan Kesesuaian Peruntukan Ruang: Studi Kasus Kabupaten Luwu Timur, Provinsi Sulawesi Selatan
Jurnal Perencanaan Wilayah dan Kota/ W. Hidayat, E. Rustiadi, H. Kartodihardjo
 
Vol 26/ No. 2, Agustus 2015/ Hal. 130-146
48
Dampak Sektor Pertambangan Terhadap Perekonomian Wilayah Di Kabupaten Luwu Timur
Jurnal Economia/ W. Hidayat, E. Rustiadi, H. Kartodihardjo
 
Vol.10/ No. 1 2014, Hal 65-80
49
Model Designing For Sustainable New City Development: A Case Study For South Tangerang City, Indonesia 
Journal of Environment and Earth Science/ H. Apriyanto, Eriyatno, E. Rustiadi, I. Mawardy
 
Vol.5 No. 8 2015/ Hal. 32
50
Two-Way Causality Between Social Capital And Proverty In Rural Indonesia
Asiansocial Science/ A. Nasoetion, E. Rustiadi, B. Juanda, S. Hadi
 
Vol. 11/ No. 13 Mei 2015. Hal 139-150
51
Pemanfaatan Citra Quick Bird Untuk Verifikasi Peta Berbasis Kepemilikan Lahan (Studi Kasus: Delta Cipunegara, Kanbupaten Subang, Jawa Barat)
Tanah dan Lingkungan 
 
Vol. 14 No. 1
52
Pembinaan Produksi Kompos Limbah Perttanian Dan Pemanfaatannya Di Kecamatan Tamansari Kabupaten Bogor
Agrokreatif
 
Perdana
53
Apoptolidins A And C Activate Ampk In Metabolically Sensitive Cell Types And Are Mechanistically Distinct From Oligomycin A
Biochemical Pharmacology 
 
2015, 93(3):251-265
54
Pertumbuhan Bibit Salak Pondoh [Salacca Zalacca (Gaerner) Voss] Yang Diinokulasi Dengan Isolat Bakteri Potensial Di Tanah Regosol Darmaga
Jurnal Hortikultura Indonesia
 
Vol 6 (April 2015) hal 30-35
55
Screening And Characterization Of Rhizobacteria For Enhancing Growth And Chlorophyl Content Of Sweet Sorghum (Sorghum Bicolor L. Moench)
J. ISSAS
 
Vol. 20 No. 2 p. 89-97
56
Transformation Of Lowland Rainforest Into Oil Palm Plantations Results In Changes Of Leaf Litter Production And Decomposition In Sumatra, Indonesia
Journal of Biodiversity and Environmental Sciences 
 
Vol. 6 No. 1 p. 546-556
57
Impact Of Tropical Lowland Rainforest On Soil Microbial Communities As Indicated By Phospholipid Fatty Acid And Identification Of Driving Factors
Journal Biology and Fertility of Soils
 
Vol. 51 No. 4 Mei 2015 p. 1021-1024
58
Ur Rehman Sa, Sabiham S, Sudadi U, Anwar S. 2015. Historical Assessment Of Forestland Conversion To Oil Palm Plantations In Riau And West Kalimantan, Indonesia 
International Journal of Peat and Soil Science
 
Vol 6(1):                                   34-49
 2015
59
Ur Rehman Sa, Sudadi U, Anwar S, Sabiham S. 2015. Land Use Changes And Above-Ground Biomass Estimation In Petalands Of Riau And West Kalimantan, Indonesia 
International Society for Southeast Asian Agricultural Sciences Journal
 
Vol 21(1):                               123-136       
2015
60
Phosphorus Fractions Of Paddy Soils In Java, Indonesia  
Journal of ISSAAS
 
Accepted
61
Effect Of Ground Water Level And Steel Slag Application On Soil Moisture Variability And Actual Hydrophobicity Of Peat Soil In Oil Palm Plantation
Journal of Agronomy
 
14 (1) 2015 : 15-22
62
Kajian Hidrofobisitas Tanah Gambut Di Perkebunan Kelapa Sawit Menggunakan Ftir Spektroskopi
Jurnal Penelitian Kelapa Sawit 
 
Vol. 22 (2) 2014: 76-86
63
Penetapan Gugus Fungsional Tanah Gambut Pada Perkebunan Kelapa Sawit Menggunakan Ftir Spektoskopi
Jurnal Penelitian Kelapa Sawit 
 
Vol. 22 (1) 2014: 11-19
64
Rasio Dan Kejenuhan Hara K, Ca, Mg Di Dalam Tanah Untuk Tanaman Kelapa Sawit (Elaeis Guineensis Jacq)
Jurnal Tanah dan Lingkungan
 
Vol. 15 No. 2, Oktober 2013: 60-65
65
Teknik Pengideraan Jauh Untuk Pemilihan Lahan Pertanian Padi Sawah Berkelanjutan
Jurnal Tanah dan Lingkungan
 
Vol. 14 No. 2, Oktober 2012: 56-65
66
Agriculture Impacts On Climate Change: A Comparison Of Ghgs Emissions From Organic And Conventional Agricultural Practices  (Sau Rehman, S Sabiham, U Sudadi, S Anwar, M Khurshid, W Ullah)
Emirates J Food and Agriculture
 
Special Issue
67
Emisi Co2 Dan Ch4 Dari Pertanaman Padi Pada Beberapa Perlakuan Pestisida Dalam Kaitannya Dengan Asam-Asam Fenolat Di Lahan Gambut (Ma Susanti, S Sabiham, S Anwar, Dadang, I Las)
Jurnal Tanah dan Iklim
 
38(2):95-100 (2014)
68
Historical Assesment Of Forestland Conversion To Oil Palm Plantation In Riau And West Kalimantan Indonesia (Sau Rehman, S Sabiham, U Sudadi, S Anwar)
Int J plant and soil sciences
 
6(1): 34-49 (2015)
69
Impact Of Oil Palm Plantations On Climate Change: A Review Of Peat Swamp Forests' Conversion In Indonesia (Sau Rehman, S Sabiham, U Sudadi, S Anwar)
Int J plant and soil sciences
 
4(1): 1-17 (2015)
70
Land Use Changes And Above-Ground Biomass Estimation In Peatlands Of Riau And West Kalimantan, Indonesia (Sau Rehman, U Sudadi, S Anwar, S Sabiham)
J Int Soc for Southeast Asian Agricultural Sciences (J ISSAAS)
 
21(1): 123-135 (2015)
71
Effect Of Ground Water Level And Steel Slag Application On Soil Moisture Variability And Actual Hydrophobicity Of Peat Soil In Oil Palm Plantation
Journal of Agronomy
 
14 (1) 2015 : 15-22
72
Emisi Co2 Dan Ch4 Dan Konsentrasi Asam-Asam Fenolat Di Bawah Pengaruh Beberapa Perlakuan Pestisida Di Lahan Gambut Pasang Surut 
Jurnal Tanah dan Iklim
 
Vol. 38 (2) 2015: 95-100
73
Estimation Of The Potential Carbon Emission From Acrotelmic And Catotelmic Peats
J Trop Soils
 
Vol. 19 No. 2 2014/ 81-89
74
Kajian Hidrofobisitas Tanah Gambut Di Perkebunan Kelapa Sawit Menggunakan Ftir Spektroskopi. Jurnal Penelitian Kelapa Sawit
Jurnal Penelitian Kelapa Sawit 
 
Vol. 22 (2) 2014: 76-86
75
Penetapan Gugus Fungsional Tanah Gambut Pada Perkebunan Kelapa Sawit Menggunakan Ftir Spektoskopi
Jurnal Penelitian Kelapa Sawit 
 
Vol. 22 (1) 2014: 11-19
76
Effect Of Ground Water Level And Steel Slag Application On Soil Moisture Variability And Actual Hydrophobicity Of Peat Soil In Oil Palm Plantation
Journal of Agronomy
 
14(1):15-22
77
Modeling On Establishment Of Sustainable Paddy Field Zone In Bekasi Regency, Indonesia
Journal of Environment and Earth Science
 
5(5):79-89
78
The Impact Of Land Use On Hydrological Characteristics In Kaligarang Watershed
International Journal of Science and Engineering
 
8(2):125-130
79
Geomorphology Analysis Of Lava Flow Of Mt. Guntur In West Java Using Synthetic Aperture Radar (Sar) With Fully Polarimetry
Procedia Environmental Sciences/Elsevier (ISSN 1878 0296)
 
Vol. 24 (2015)/pp.303-307
80
Kajian Perencanaan Ruang Berbasis Debit Air
Tata loka (sudah terbitO)
 
 
81
Kajian Risiko Kekeringan Kabupaten Indramayu
DITSL sedang diproses
 
 
82
Pemetaan Bahan Kerusakan Lahan Akibat Pertambangan Emas Ilegal Di Das Raya, Kalbar
DITSL sedang diproses
 
 
83
Metode Alternatif Memperkirakan Konsentrasi Karbon Organik Terlarut Dalam Air Saluran Drainase Dan Tanah Gambut
JURNAL TANAH DAN IKLIM VOL. 39 NO. 1
 
JULI 2015, P: 1-8
84
The dynamics of rice production in Indonesia 1961-2009
Journal of the Saudi Society of Agricultural Sciences
2013
DOI: 10.1016/j.jssas.2012.05.002
85
 Impact Of Land Use Change On Irrigation Water Supply In Northern Java Coast (Pantura)
J. Tanah Tropika Lampung
2013
ISSN 0852-257X.
86
Environmental impacts from smallholder oil palm plantations in Sumatra, Indonesia
Conservation Letter (english)
2013
 
87
Assessing the seasonal dynamics of the Java's Paddy Field using MODIS satellite images. International Journal of Geo-Information
International Journal of Geo-Information
2014
Vol. 3 No. 1
88
Analisis Keberlanjutan Pengembangan Prasarana Transportasi Perkotaan di Metropolitan Mamminasata Provinsi Sulawesi Selatan (Analysis of Sustainable Urban Development in Mamminasata Metropolitan of South Sulawesi Transportation Infrastructure). 
Jurnal Jalan-Jembatan
2013
Vol. 30 No. 1
89
Urban Sprawl Effects on Settlement Areas in Urban Fringe of Jakarta Metropolitan Area.
Journal of Environment and Earth Science
2014
2224-3216 (Paper) ISSN 2225-0948 (Online); Vol 3 No. 12
90
Verifikasi Metode Penentuan Residu Pestisida Beta Siflutrin dalam Kentang (Solanum tubersom L.) secara Kromatografi Gas
Jurnal Sains Terapan 3(1):50- 55
2013
 
91
Isolation, Characterization, dan Molecular Identification of Phosphate Solubilizing Bacteria from Several Tropical Soils
Jurnal Of Tropical Soil 18(1): 67 -74
2013
 
92
Effects Of Humic Substances On Phosphorus Sorption And Desorption Characteristics Of Soils High In Iron
And Aluminum Oxides
J. ISSAAS Vol. 19, No. 1:86 -92
2013
 
93
Harmonizing Legacy Soil Data For Digital Soil Mapping in Indonesia
Geoderma
2013
 
94
Efesiensi Serapan Hara dan Hasil Padi pada Budidaya Padi SRI di Persawahan Pasang Surut Kalimantan Selatan dengan Kompos di Perkaya untuk mengurangi Pupuk Anorganik 
Jurnal Agronomi Vol. XI. No.2
2012
 
95
Chicken manure composts as the source of nitrogen and their effect on the growth and quality of Komatsuna (Brassica rapa L.)
Journal of the International  Society for Southeast Asian Agricultural Sciences (J. ISSAAS) Vol.20, No. 1:52-64 (2014) 
2014
 
96
Effects of humic substances on phosporus sorption and desorption
characteristics of soil high in iron and aluminum oxides
Journal of the International  Society for Southeast Asian Agricultural Sciences (J. ISSAAS), Vol. 19, No. 1:86-92 (2013)
2013
 
97
Simulasi Manajemen Lahan di DAS Ciliwung Hulu Menggunakan Model SWAT 
Informatika Pertanian
21(2):71-79
ISSN 0852-1743
2012
 
98
Detection Settlements and Population Distribution Using GIS
And Remotely Sensed Data, In The Surrounding Area of
Merapi Volcano, Central Java, Indonesia
International Journal of Emerging Technology and Advanced Engineering
Vol. 4, Issue 3, March 2014: 1- 10; ISSN 2250-2459, ISO 9001:2008 Certified Journal,
Website: www.ijetae.com
2014
 
99
Pemanfaatan Citra Quickbird untuk Verifikasi Peta Berbasis Kepemilikan Lahan (Studi Kasus : Delta Cipunegara, Kabupaten Subang, Jawa Barat)
Jurnal Tanah dan Lingkungan
Vol. 14 No. 1, April 2012: 37-43; 
2012
 
100
Studi Geomorfologi Pulau Ternate dan Penilaian Bahaya Longsor
Jurnal Tanah dan Lingkungan
Vol. 14 No. 1, April 2012: 8-13; ISSN 1410-7333
2012
 
101
Detecting Rice Growth Using ALOS Multispectral and Synthetic Aperture Radar
Telkomnika Indonesian Journal of Electrical Engineering 12(7): 5613-5620. DOI: 10.11591/telkomnika.v12i7.5739
2014
Institute of Advanced Engineering and Science (IAES); ISSN: 2302-4046
102
Identifying Natural Revegetation of Mine Waste Using Compact Polarimetry
Asian Journal of Geoinformatics 13(4):16-20
2013
Asian Association on Remote Sensing (AARS); ISSN 1513-6728
103
The dynamics of rice production in Indonesia 1961-2009
Journal of the Saudi Society of Agricultural Sciences 12(1): 27-37. DOI: 10.1016/j.jssas.2012.05.002; ISSN 1658-077X
2013
 
104
Satellite monitoring of small-scale farming systems in Subang, Indonesia
ITB Journal of Science, 44A(1):67-78. DOI: 10.5614/itbj.sci.2012.44.1.6; ISSN
1978-3043
2012
 
105
Performance of Wishart classification algorithm to map mangrove forest using fully polarimetric Synthetic Aperture Radar at C-, L- and P-bands
International Journal of Electrical Engineering and Informatics, 4(3): 474-482; ISSN 2085-6830
2012
 
106
Pemanfaatan Citra QuickBird untuk Verifikasi Peta Berbasis Kepemilikan Lahan, Studi Kasus Delta Cipunagara, Kabupaten Subang Jawa Barat
Jurnal Tanah dan Lingkungan 14 (1) April 2012; ISSN 1410-7333
2012
 
107
Pengembangan Komoditas Unggulan Tanaman pangan di Kabupaten Bone
Journal of Soil Science and Environment
2014
DITSL (sedang proses), ISSN 1410-7333
108
Analisis Potensi Pengembangan Hutan rakyat di Kabupaten Lombok Tengah
Journal of Soil Science and Environment
2014
DITSL (sedang proses), ISSN 1410-7333
109
Optimizing Plantation Allocation Using Spatially Multi-Criteria Approach Based Continuous Data
J. Eng. Technol. Sci
2013
ITB (sedang proses)
110
Integrasi Citra Satelit Radar SAR dan SIG untuk Pemantauan dan Estimasi Luas Tanam dan Produksi Padi
Bumi Lestari (sedang proses); Universitas Udayana
2013
 
111
Environmental impacts of large scale oil palm enterprises that of smallholdings in Indonesia
Conservation Letters : A Journal of the Society for Conservation Biology
2013
Wiley – Online Library Online ISSN 1755-263x: ; DOI 10.1111/conl.12039 (24 Juni 2013)
IF 4.356
112
Inventarisasi dan Analisis Identifikasi Penggunaan
Lahan Berdasarkan Tumpang Tindih Lahan Kontrak Karya pada PT. Gorontalo Mineral
JATT Vol. 1 No. 1, April 2012: 46-60 ; Universitas Gorontalo; ISSN 2252-3774 
2012
 
113
Pemetaan Lahan Sawah dan Potensinya untuk Perlindungan Lahan Pertanian Pangan Berkelanjutan di Kab Pasaman Barat, SumBar
Journal of Soil Sciences and Environment; DITSL (sedang proses); ISSN 1410-7333
2012
 
114
Analisis Pemanfaatan Ruang Wilayah Pesisir Kabupaten Pandeglang, Provinsi Banten
Journal of Soil Sciences and Environment; DITSL (sedang proses); ISSN 1410-7333
2012
 
115
Developing Soil-landscape Models to Predict Soil Properties in Java Island
Journal of Soil and Climate; BBSDLP (akreditasi lipi No. 816/D/2009); ISSN 1410-7244; hal 1-18 
2012
 
116
Penerapan Elektroosmosis untuk Pengeringan Sludge dari Pengolahan Limbah Cair
Jurnal Reaktor Volume 14 Nomor 3 April 2013
2013
 
117
Kesesuaian Lahan Fisik dan Ekonomi untuk Padi Sawah: Studi Kasus Wilayah Perencanaan Kota Terpadu Mandiri Rawapitu, Provinsi Lampung
Globe, Vol. 15 No. 1, Juni 2013
2013
 
118
Perencanaan Spasial Pemanfaatan Lahan Untuk Komoditas Perkebunan Rakyat Di Kabupaten Pidie Jaya, Provinsi Nangroe Aceh Darussalam.
Geomatika, Ags 2013
2013
 
119
Perencanaan spasial peningkatan produksi kedelai berbasis kesesuaian lahan di Kab. Lombok Timur, Prov. Nusa Tenggara Barat: Studi Kasus Pemanfaatan Data Spasial dari Kegiatan Badan Informasi Geospasial "Pemetaan Integrasi Kemampuan Lahan dan Kesesuaian Lahan Multisektor".  
Geomatika, Des 2013
2013
 
120
Analysis Of Physical And Economical Land Suitability For Paddy Field Using Geographic Information System (Gis) And Automated Land Evaluation System (Ales): Case Study Of Transmigration Settlement Maidi Sp-2, North Maluku Province
Journal of MIT, Maret 2013
2013
 
121
Distribusi Spasial Besaran Erosi untuk Perencanaan Penggunaan Lahan Lestari: Studi Kasus UPT Rantau Pandan SP-1, Provinsi Jambi
Globe, Vol. 14 No. 1 Juni 2012
2012
 
122
Perubahan Cadangan Karbon Organik Tanah dalam Konteks Perubahan Penggunaan Lahan Selama 2 Dekade: Studi Kasus Kab. Bogor, Jawa Barat
Globe, Vol. 14 No. 2 Desember 2012
2012
 
123
Evaluasi Lahan Permukiman Transmigrasi Pola Lahan Kering Menggunakan Automated Land Evaluation System (Ales):
Geomatika, Desember 2012
2012
 
124
Studi Kasus Rantau Pandan SP-2, Provinsi Jambi
Jurnal Pengelolaan SDAL. Vol. 2, No. 1, Juni 2012. pp. 46-55
2012
 
125
Analisis Kesesuaian Lahan Tingkat Satuan Pemukiman Menggunakan Automated Land Evaluation System (Ales): Studi Kasus Rantau Pandan SP-1, Provinsi Jambi
Jurnal PSDAL. Vol. 2, No. 1. pp. 29-36
2012
 
126
Dinamika Perubahan Penggunaan Lahan dan Strategi Ruang Terbuka Hiiau (RTH) Terbuka Berdasarkan Alokasi Anggaran Lingkungan Daerah (Studi Kasus Kota Bekasi)
Jurnal JMST Vol 12 No. 1 Maret 2011, Universitas Terbuka
2012
 
127
Fosil Polen Mangrove Berumur Pliosen dari Formasi Tapak daerah Kedung Randu
J. Bioma 14(1): 17-24
2012
 
128
Impact of Brachiaria, arbuscular mycorhiza and K enriched rice staw compost an Al, K and Stability of acid soil aggregates
J. Agric Sci 13 (1): 27-34
2012
 
129
Efek Pembukaan Lahan Terhadap Karakteristik Bio Fisik Gambut Pada Perkebunan Kelapa Sawit di Kabupaten Bengkalis
J. Natur Ind 14(2): 143-149
2012
 
130
Organik carbon Storage And Management Strategies For Reducing Carbon Emissin From Peatlands
Pedologist 55(3):426-434
2012
 
131
Pengelolaan Lahan Gambut Indonesia Berbasis Keunikan Ekosistem
Departemen Ilmu Tanah dan Sumberdaya Lahan, Faperta IPB
2012
 
132
The Dynamics of Rice Production in Indonesia 1961-2009
Elsevier
ITB Press
ITB Press
Intech open
Jurusan Aristektur Lansekap IPB
2013
Journal of Saudi Society of Agricultural Science, Vol 12, No. 1, 27-37.
133
Performance of Wishart Classification Algorithm to Map Mangrove Forest Using Fully Polarimetric Synthetic Aperture Radar at C-, L- and P-bands
 
2012
ITB Journal of Electrical Engineering, Vol. 44 A, No. 1, 67-78
134
Satellite Monitoring of Small-scale Farming Systems in Subang, Indonesia.  
 
2012
ITB Journal of Sciences, Vol. 44 A, No. 1, 67-78
135
Seasonal pattern vegetative cover from NDVI time series data
 
2012
Tropical forest, Chapter 13: Pp 255-268
136
Tarigan, S.D., 2012. How oil palm expansion affect dry season streamflow?
Submit ke Jurnal Agriculture, Ecosystem&Environment 
2013
 
137
Tarigan, S.D., Tukayo, R., 2012. Impact Of Land Use Change On Irrigation Water Supply In Northern Java Coast (Pantura)
Submit ke Jurnal Tanah dan Tropika, Universitas Lampung
2012
 
138
Tarigan, S.D., 2012. Methods for Delineating Degraded Land
J. Tanah Tropika Vol 17 No.3, ISSN 0852-257X. Lampung
2012
 
139
Sabiham, S., Tarigan, S.D, Haryadi, Las, I.,Agus, F., Sukarman, Setanto, P., Wahyunto, 2012. Organic Carbon Storage and Management Strategies for Reducing Carbon Emission from Peatlands:A Case Study in Oil Palm Plantations in West and Central Kalimantan, Indonesia
Pedologist Vol 55, No.3 426-434 (Special Issue)
2012
 
140
Patiung, O., Tarigan, S.D., Sinukaban, N., Pengaruh umur reklamasi lahan bekas tambang batu bara terhadap fungsi hidrologis. 
J. Hidrolitan 2(2) :60-73
2012
 
141
Characterization of Surface Runoff, Soil Erosion and Nutrient Loss on Forest-Agriculture Landscape
Jurnal Tanah Tropika, Vol 17 No.3
2012
 
Jurnal Terindeks Scopus
No

Nama Dosen

Jml Artikel

Jml Sitasi

h-index

Scopus ID

1

Santun R.P Sitorus, Prof Dr Ir

7

5

1

56237688200

2

Khursatul Munibah, M.Sc, DrDra

7

10

2

56237152400

3

Supiandi Sabiham, Prof DrIr

20

89

4

6508122447

4

Iswandi Anas, Prof DrIr, M.Sc

21

362

11

25421012800

5

Basuki Sumawinata, Dr Ir, M.Sc

4

12

2

6506622167

6

Atang Sutandi, Dr Ir, MSi

14

49

4

55360140300

7

Gunawan Djajakirana, Dr Ir, M.Sc

3

318

3

6507395945

8

Suwardi, DrIr, M.Agr

1

1

1

56741464400

9

Widiatmaka, DrIr, DAA

29

40

4

56962708400

10

Syaiful Anwar, Dr Ir MSc

12

51

3

7005876562

11

Baba Barus, Dr Ir, M.Sc

11

97

2

55361296100

12

Suria Darma Tarigan, Dr Ir, M.Sc

14

118

5

57073753500

13

M. Ardiansyah, Dr Ir

10

7

1

57193566894

14

Dwi Andreas Santosa, Prof. Dr Ir, M.Sc

20

222

8

8977885100

15

Untung Sudadi, DrIr, MSc

4

6

1

56755457300

16

Boedi Tjahjono, DrDrs

5

5

2

56237250300

17

Kukuh Murtilaksono, Prof. DrIr, MS

14

51

4

56469817600

18

Rahayu Widyastuti, Dr, M.Sc, Dra

18

104

6

56638637700

19

Ernan Rustiadi, Dr Ir, M.Sc

17

67

4

56237011500

20

Arief Hartono, DrIr MSc Agr

16

77

4

15070340200

21

Dyah Retno Panuju, MS

20

45

3

8388958800

22

Bambang H. Trisasongko, Ir, MSc

31

86

5

8667847800

23

Iskandar

47

861

16

7003285717

24
Dr Andrea Emma Pravitasari, SP., MSi
3
12
1
56544593100
Jurnal Terindeks Google Scholar
No

Nama Dosen

Jml Artikel

hindex

i10index

Jml Sitasi

Scholar ID

 
 

1

Santun R.P Sitorus, Prof Dr Ir

278

8

5

406

atVfAmkAAAAJ

 

2

Khursatul Munibah, M.Sc, DrDra

68

6

1

92

0U6j7YwAAAAJ

 

3

Supiandi Sabiham, Prof DrIr

100

9

9

386

aofreh4AAAAJ

 

4

Iswandi Anas, Prof DrIr, M.Sc

159

14

19

740

 

 

5

Sudarsono, Prof  DrIr

102

1

0

7

 

 

6

Basuki Sumawinata, Dr Ir, M.Sc

42

3

1

47

4KUO9ZUAAAAJ

 

7

Atang Sutandi, Dr Ir, MSi

68

5

3

217

YAjErlUAAAAJ

 

8

Gunawan Djajakirana, Dr Ir, M.Sc

60

6

4

424

U4lQjr8AAAAJ

 

9

Latief  M. Rachman, Dr Ir

16

2

0

8

IWZDNK8AAAAJ

 

10

Enni Dwi Wahyunie,Dr Ir,M.Si

20

3

0

18

Ep1qgQwAAAAJ

 

11

Iskandar, DrIr

13

2

0

13

 

 

12

Suwardi, DrIr, M.Agr

95

3

0

42

vGo11N0AAAAJ

 

13

Widiatmaka, DrIr, DAA

97

9

8

993

 

 

14

Syaiful Anwar, Dr Ir MSc

80

5

4

119

pZEV6bIAAAAJ

 

15

Baba Barus, Dr Ir, M.Sc

96

8

5

355

zOtjie8AAAAJ

 

16

Heru Bagus Pulunggono, Ir, M.Sc

20

4

0

25

v_LqTc4AAAAJ

 

17

Dwi Putro Tejo Baskoro, Dr Ir, M.Sc

60

4

1

58

gv7K84oAAAAJ

 

18

Suria Darma Tarigan, Dr Ir, M.Sc

131

8

5

263

ukdzSPsAAAAJ

 

19

Budi Nugroho, Ir, M.Si

95

4

0

56

XD3GmmIAAAAJ

 

20

Wahyu Purwakusuma, Ir,MSc

5

2

0

18

pZeXlu0AAAAJ

 

21

M. Ardiansyah, Dr Ir

100

5

2

109

a2Gq4zAAAAAJ

 

22

Suwarno, DrIr MSc

237

6

3

158

 

 

23

Dwi Andreas Santosa, Prof. Dr Ir, M.Sc

454

10

11

399

rNeA0yAAAAAJ

 

24

Fahrizal Hazra, Ir, M.Sc

24

3

0

28

w0ZK5OoAAAAJ

 

25

Untung Sudadi, DrIr, MSc

44

4

1

56

QcEyyr8AAAAJ

 

26

Boedi Tjahjono, DrDrs

 

 

 

 

 

 

27

Kukuh Murtilaksono, Prof. DrIr, MS

100

8

7

253

ZFmqn8kAAAAJ

 

28

Rahayu Widyastuti, Dr, M.Sc, Dra

100

8

5

221

FY9UpoUAAAAJ

 

29

Darmawan, DrIr, M.Sc

100

7

5

460

 

 

30

Ernan Rustiadi, Dr Ir, M.Sc

100

12

17

908

XehH1mcAAAAJ

 

31

Hermanu Widjaja, Ir, M.Sc

2

0

0

0

f2IjF6sAAAAJ

 

32

Dyah Tj. Suryaningtyas, Dr Ir,Mappl.Sc

13

3

0

17

RWcHg_UAAAAJ

 

33

Lilik Tri Indriyati, Dr Ir, M.Sc

17

3

0

18

P-IecT0AAAAJ

 

34

Yayat Hidayat, Dr Ir MSi

100

6

2

145

iLQYfNQAAAAJ

 

35

Arief  Hartono, DrIr MSc Agr

49

7

5

147

413OPKYAAAAJ

 

36

Dyah Retno Panuju, MS

92

9

7

531

-qBYslEAAAAJ

 

37

Asdar Iswati, DrIr

15

3

0

12

Mud8XmMAAAAJ

 

38

Bambang H. Trisasongko, Ir, MSc

82

6

3

157

pE_4nFsAAAAJ

 

39

Andrea Emma Pravitasari, S.P., MSi

28

5

2

76

8I3alFQAAAAJ

 

40

Setyardi Pratika Mulya, S.P., MSi

13

1

0

3

DwlpMwgAAAAJ

 

41

Indri Hapsari Fitriyani S.P., M.Si.

3

0

0

0

2EZp21sAAAAJ

 

Jumlah

3278

212

135

7985

 
Jumlah Sitasi
Jumlah Sitasi Karya Ilmiah Terindeks Scopus dan Google Scholar